Early last year, I switched jobs to near Dufferin and Lawrence and slashed three quarters of my commute distance. During the winter months, I took the TTC but aimed to commute by bike as often as possible (of course). This bike commuting experience made me aware of not only how few bike lanes North York has, but also the lack of dedicated north-south routes in Toronto. Especially north of Davenport. Since I opted to take a different route yesterday morning, I will reflect on that experience, my original route, and a project the City of Toronto is looking to implement late this year.
The West Toronto Railpath was part of my original bike commute
My original commute took me along the West Toronto Railpath, Davenport, and Caledonia before turning off at Glencairn onto some residential streets before work. While I always enjoyed riding along the Railpath, Caledonia is a rough place for bike commuting. Between St. Clair and Eglinton, there are two valleys with a very tough hill to climb just south of Eglinton. The road widens once you get to the employment lands past Castlefield Avenue, which bring the trucks along with it. The traffic on Caledonia can also be heavy, which can be a blessing – speeding past cars on my way home – and a curse with a serious collision happening at Caledonia and Glencairn recently. Surely, there is a more pleasing way to get around than Caledonia?
Map of my original bike commute along the Railpath, Davenport, and Caledonia
Sometimes on my way to downtown meetings after work, I will use the bike lanes on Marlee, the quiet streets on (or near) Winona, and the contraflow on Shaw before continuing east. Overall, it's a fairly direct route except for a diversion at Winona and Belvidere for a block, but it's a much safer route with smoother hills than on Caledonia.
A dead end exists on Winona north of St. Clair
When I aimed to do the commute in reverse yesterday, I experienced a few snags. The first is there is no way to legally continue on Winona north of St. Clair. While Winona is one way southbound, Barrie Avenue – which goes to adjacent Atlas – is one way westbound; meaning cyclists would have to go the wrong way on Barrie, use St. Clair, or use Alberta to go north. For a short term solution (until a contraflow can be installed on Winona), Toronto needs to make Barrie one way eastbound so cyclists can safely (and legally) continue north to Vaughan Road.
There is no way to legally go northbound from Winona and Belvidere
At Vaughan, you can go northbound on Winona until Belvidere, which is an even worse mess. From there, you cannot continue to Eglinton and Marlee without going the wrong way. Why does there need to be three one-way southbound streets in a row?!?! Are you f***ing kidding me?!?! Since the parking is already on the correct side, Toronto must fast track a northbound contraflow bike lane on Winona from Belvidere to Gloucester to legalize northbound cycling traffic to Eglinton. A considerably more direct and safer route than the current legal way of taking Vaughan and Oakwood to Eglinton.
Going home via Marlee-Winona-Shaw is relatively direct. Can't say that for heading to work.
Once at Eglinton, there is the issue of the crosswalk being placed only on the west side; meaning the Winona-Eglinton-Marlee intersection needs to be reconfigured to complete the link. Unfortunately, Marlee from Eglinton to Roselawn is too narrow to accommodate bike lanes and two traffic lanes, so chances are that section will be subject to sharrows or advisory bike lanes. Despite this one-way nonsense and other issues, not having the intense hill climbs was a relief.
The City of Toronto wants to extend this northbound bike lane on Vaughan Road
Earlier this week, the City hosted a public meeting about the Oakwood neighbourhood connections including building a contraflow bike lane on Northcliffe from Rogers to Vaughan and extending the one-way northbound Vaughan bike lanes to Northcliffe. Sharrows will also be added on Winona from Davenport to St. Clair, given that stretch – at 8.4 metres wide – is too narrow to fit bike lanes and two traffic lanes. As an alternative to sharrows, maybe Winona and Alberta could be reconfigured into alternating one-way streets in order to fit in a contraflow bike lane on Winona? At that width, a bi-directional cycle track may be possible, but the buffer would be small at 40 centimetres. The issue of pick ups and drop offs at the two schools on the east side would also need to be addressed.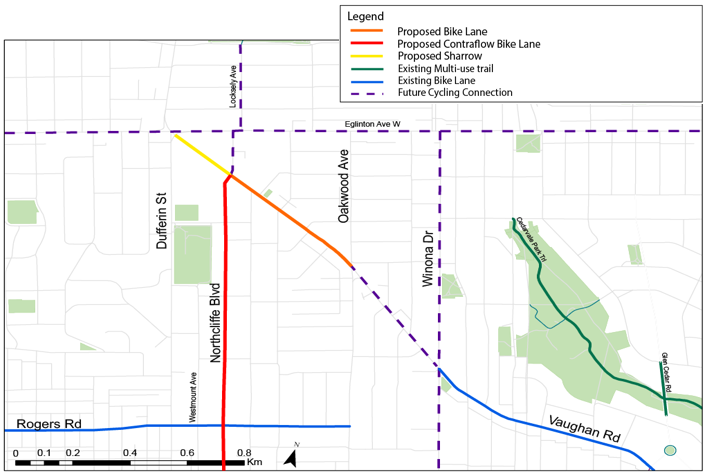 Map of Oakwood neighbourhood connections (via City of Toronto)
Northcliffe is a project some of the local advocates have been supporting and would connect with Rogers, Vaughan, the future Eglinton cycle tracks, and the Beltline Trail. However, it needs to be extended south of St. Clair to Rosemount in order for it to connect with Winona and truly become effective. As for Vaughan, I am not that keen of bike lanes on only one-side, though it has been done before on hills where people riding bikes downhill are more likely to keep up with motor vehicle traffic. During reconstruction, it may be worth revisiting this street to ensure bike lanes are put on both sides.
Last, but not least, what is this "no walking or cycling" sign doing at Vaughan and Winona? There's no highway near there that would require this sign.
Longitudinally yours,
Rob Z (e-mail)