As if January and February were not busy enough for cycling related public consultations, the City of Toronto has announced at least five more for May with the possibility of another two. A record for this city, perhaps? 😉 These include the Martin Grove Bikeway, Bloor Street Upgrades, Huntingwood Drive Upgrades, Mid Humber Gap, and Gerrard East Complete Street. Let's see what the consultation materials have to offer and suggest some improvements.
Rendering of Martin Grove multi-use path (via City of Toronto)
Building on Martin Grove
The City of Toronto held a virtual public meeting in December 2020 to discuss extending the existing Martin Grove bike lanes from Rathburn to Burnamthorpe. While a short stretch from Rathburn to just north of Donalbert was supposed to be protected, it will no longer be the case once the project was approved by city council in June 2021.

Protected intersection at Martin Grove and Eglinton (via City of Toronto)
For those wishing the City could go further at that time, tonight's meeting at 6:30 PM is for you. This project aims to extend the Martin Grove bike lanes north to the Eglinton West Trail with a protected intersection, as well as provide a connection to Kipling subway station. The intersection at Burnamthorpe will get some improvements, while a multi-use path will be installed through Wedgewood Park.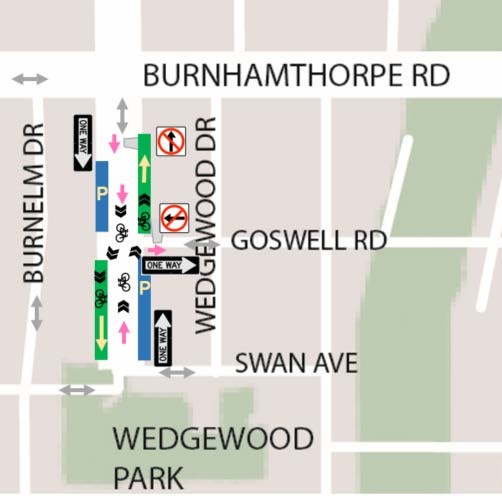 Contraflow bike lane on Martin Grove (via City of Toronto)
Three options were provided from Burnamthorpe to Wedgewood Park which include turn restrictions, a contraflow bike lane, and traffic calming only. Among these, the contraflow bike lane would be the best option for people who bike. However, I am disappointed that the City recommended sharrows on Wilmar, Montesson, and Acorn between Bloor and Dundas. Since this project calls for a short bi-directional bikeway on Bloor from Wilmar to Martin Grove, why not extend the Bloor bike lanes from Six Points to Martin Grove instead? Be sure to send your feedback by Wednesday, May 18.
Bloor Street Upgrades
The Bloor Street upgrades will be subject to public engagement on Thursday, May 5 (tomorrow) at 6:30 PM. Originally scheduled for 2020, this reconstruction from Spadina to Avenue will now take place in 2023. Raised cycle tracks – similar to what was installed from Bathurst to Spadina in 2019 – will be on the agenda, as well as improved sidewalks, green space, and the hotly anticipated protected intersection at Bloor and St. George per the below video from the City's website.
While the protected intersection there would help prevent future deaths such as Dalia Chako's from happening, these delays mean it would no longer be Toronto's first. To get a live preview of what to expect, I would suggest going by Evelyn Wiggins and Murray Ross Parkway near York University.
Huntingwood Upgrades
Now that the Huntingwood bike lanes have been made permanent since last December, the City is looking to upgrade the bike lanes along with road repairs planned for next year. While earlier improvements lead to parking protected bike lanes using plastic bollards, three options are being proposed for this round of upgrades.
Huntingwood Drive bike lanes in 2020
The first option would use enhanced pavement markings and separators; likely using parking curbs (and bollards) as has been done elsewhere in Toronto. The second option would replace the plastic boards with poured in concrete similar to the bi-directional bikeway on Queen's Park. The final option would be the most transformative including the use of planting areas which have recently been implemented in Murray Ross Parkway. The meeting will take place on Wednesday, May 11 at 6:00 PM with feedback due on Friday, June 10.
Mid Humber Gap
Within days of biking parts of the Toronto Loop, the City had announced a second public meeting for the Mid Humber Gap scheduled for Tuesday, May 17 at 6:30 PM. Of the three options presented, it appears Option 1A – which keeps the in-valley alignment and uses part of the Weston Golf & Country Club – will be the preferred option. The other two options would have involved using parts of Weston Road which is hostile to bike on, as well as a rough hill to climb up when going northbound.
Preferred option for Mid Humber Gap (via City of Toronto)
For those of you who can't make it, feedback will be due by Tuesday, May 31.
Gerrard East Complete Street
For those of you who bike on Gerrard, you are probably annoyed with the gap from Parliament to River. A consultation will be held on Tuesday, May 17 at 6:30 PM to address this gap, well as upgrade the existing bike lanes from Sherbourne to Parliament and from River to Blackburn. The stretch east of Parliament will be in conjunction with redevelopment at Regent Park.
Proposed design for Gerrard Street (via City of Toronto)
The Sherbourne to Parliament stretch is expected to be reconstructed next year with the existing bike lanes to be replaced with a bi-directional cycle track on the south side. This treatment is also recommended from Parliament to Blackborn. While uni-directional cycle tracks would have been preferred to prevent westbound cyclists having to cross twice, I understand the difficulties involved with designing around streetcar tracks. At least another protected intersection is recommended for Gerrard and Sherbourne.
Future Projects to Watch
While no dates have been announced yet, two more projects could come up in May (or June). These include second round consultations for Renewing Overlea Boulevard and Scarborough Golf Club. Be sure to register on the City's respective project websites to be notified about these meetings once announced. And May the Fourth be with you!
Car Wars. #MayThe4th pic.twitter.com/ML8MDNrIp9

— Tom Flood (@tomflood1) May 4, 2022