With much of the cycling community's focus on extending the Bloor bike lanes west to High Park, we cannot forget the need to extend the bike lanes east along Danforth Avenue. A complete streets study was announced at last year's Bells on Danforth ride, but WTF has happened since then? Turns out there's a lot going on with the east end's main street.
Bells on Danforth 2018
Last July, results from a volunteer run bike count showed over 3000 people biked on Danforth for a single day. To put that number into perspective, Danforth would be ranked among Toronto's ten busiest cycling routes (see below) and even gets more people riding bikes than on the Dundas East bike lanes; a popular route used to go downtown from the east end. The ridership numbers are also similar to those for Bloor before the bike lanes were put in (and based on a more recent count for Bloor west of Shaw where the bike lanes end).
During The Reading Line last August, Amanda O'Rourke of 8-80 Cities announced "8-80 Streets Danforth"; a weekend-long pop up complete street demo to show how Danforth can accommodate all road users. It was originally to be hosted in October 2018, but logistical issues lead to it being postponed. Toronto City Council will debate the complete streets demo at their June 18 City Council meeting and if approved, the demo will proceed from August 22 to 24.
As for the timing of the Danforth bike lane installation, there are some skeptics who insist on waiting for the complete streets study to be completed first. This position is unacceptable given the slow pace of bike lane installations – 25 kilometres from 2016 to 2018 – and the high number of cycling fatalities last year. Not to mention, the Bloor bike lanes were installed as a pilot project (while the major corridor study remains stalled) and Danforth is wide enough to accommodate protected bike lanes AND keep all on-street parking. We CANNOT wait until the next election to make Danforth safer for all!
Danforth Avenue is about the same width - no excuse not to put in bike lanes there
In response, the David Suzuki Foundation launched a new petition on Tuesday, June 4 calling for the Danforth bike lanes to be installed by 2020. The petition has gotten over 900 signatures at the time of writing, which you can sign here and share with your networks. An update to Toronto's bike plan is expected to be debated at the Infrastructure and Environment Committee meeting by the end of this month, which should give more clarification on what will happen on Danforth as well as the Bloor bike lane extension.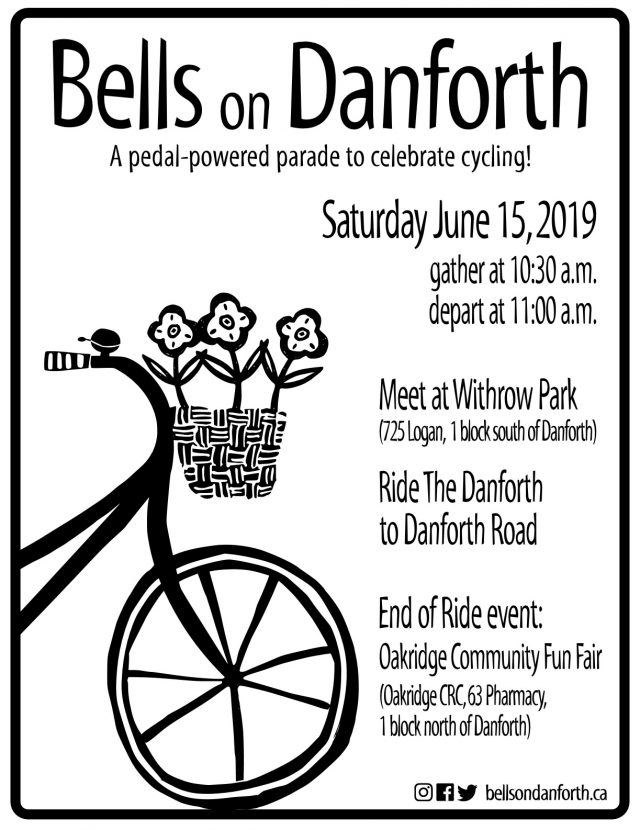 Finally, Bells on Danforth will be returning for the eighth year on Saturday, June 15. The ride will gather 10:30 AM at Withrow Park on Logan Avenue and start at 11:00 AM following the usual speeches from elected officials and Cycle Toronto. The ride will end at the Oakridge Community Recreation Centre (near Pharmacy Avenue) with a community fair. Having done this ride a few times before, it's a lot of fun with almost five hundred people of all ages riding with you! :) Here is the link to the 2019 Bells on Danforth Press Release for more information.
Let's keep up the pressure to ensure bike lanes get built on Danforth by 2020!
Rob Z (e-mail)