With the Ontario election 23 days away, transportation has once again become an election issue for many voters. While political party platforms are increasingly featuring cycling and other forms of active transportation, it remains overshadowed by public transit and other issues. Let's look at what Ontario's political parties have in store for people who bike.
Liberal
The Wynne government's commitment to cycling started when they unveiled #CycleON in 2013; the first cycling strategy update in over 20 years. Their most recent budget called for over $90 million in cycling funding for 2017-2018 , while Metrolinx's next Regional Transportation Plan will be the first to propose a regional cycling network. As part of the recently unveiled Action Plan 2.0, the Ontario government is currently updating Ontario Traffic Manual Book 18 with the help of WSP and the Ontario Traffic Council. Advocates are encouraged to complete this survey to help guide the Book 18 update process with more consultation opportunities to follow.
A more recent Ontario Liberal initiative is Bill 174, which increases the maximum careless driving fine from $2000 to $50 000. However, it falls short of true vulnerable road user legislation.
NDP
Former NDP MPP Cheri DiNovo was instrumental in securing the one metre passing rule – approved via Bill 31 – and has expressed support for a complete streets policy. Page 62 of the Ontario NDP's "Change for the Better" platform calls for requiring all municipalities to have cycling (or active transportation) plans by 2021, as well as adding ridership targets when updating the cycling strategy (which originated with the NDP under Bob Rae). While #CycleON Action Plan 2.0 also calls for municipal plans, the key item which makes the NDP stand out is a vulnerable road user law.
DiNovo introduced this bill in Fall 2017 under Bill 158 and was later re-introduced by Catherine Fife as Bill 37. Unfortunately, Bill 37 died before the writs were drawn up for the election. The vulnerable road user law would impose additional penalties when a pedestrian or cyclist gets hit including mandatory license suspensions, community service work relating to road safety, driver retraining, and the requirement to attend court for victim impact statements. TCAT drafted a chart comparing the Liberals' Bill 174 with the vulnerable road user law.
Green Party
The Green Party of Ontario expressed support for cycling matters in the past. Per a press release from December 2013, they expressed support for a bill Norm Miller introduced which would have required paved shoulders on rural roads. They supported the establishment of a complete streets policy and called for 1% of transportation funding to be dedicated for cycling infrastructure and another 1% for pedestrian infrastructure.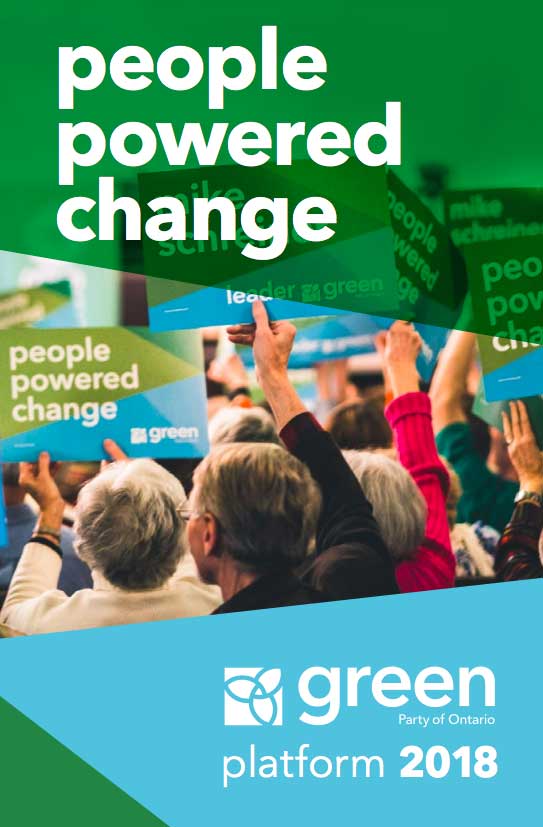 A specific amount was given yesterday when the Greens released their platform. They committed $2.17 billion over four years for walking and cycling ; considerably exceeding the mainstream party offerings. Unfortunately, the Greens have yet to have their first MPP elected and would not be in a position to implement this bold move for the foreseeable future.
Progressive Conservative (PC)
While the Ontario PC's did have the "People's Guarantee" platform when Patrick Brown was leader – which supported a carbon tax – Doug Ford effectively scrapped it when he succeeded Brown due to a sexual harassment scandal. The PC's still haven't released a fully costed platform, but there are some clues on what a Ford government would do.
Doug Ford's REimagining Yonge deputation is 20 minutes in
Doug Ford called for the scrapping of Ontario's cap-and-trade program and refused to implement a carbon tax; meaning Ottawa would impose one instead. Ford called for finding $6 billion in "efficiencies", which could put Ontario's cycling programs at risk. His REimagining Yonge deputation on January 19, 2018 confirmed his lack of support for bike lanes on arterial roads; instead calling for them to be placed on side streets. However, not even Ford could deny the fact protected bike lanes feel safer when federal NDP leader Jagmeet Singh took him on a bike ride during TVO's Political Blind Date series. One final thing Ford should consider is there are conservative folks such as PC MPP Norm Miller who strongly supports cycling.
Final Remarks
At this point, the Ontario PC's remain the only major party which doesn't have a plan for cycling nor has it expressed support for such a plan. With the momentum Ontario has gained on cycling over the past five years, it would be a shame to see it wasted in the event Ford wins a majority and scraps the cycling funding programs. It is why we advocates must call on MPP's and candidates of all political stripes to ensure active transportation interests are at the table; both during and after the election campaign.
Vote for bikes!
Rob Z (e-mail)